click above for home page - this page produced on Sun 3rd December 2023
---
Sintefex Digital Audio and Video Hardware and Software Design Consultancy
---
Sintefex has been offering software and harware design consultancy to the digital audio and video industry since its inception in 1997. This is often on a confidential basis.
We offer solutions in digital signal processing, user interface and system design from the ground up.
We consult with you on product development from the concept stage to production and can offer in-house hardware and software design to take the design through any or all stages, relieving management of micro-managing product development which is safely in the hand of proven product design teams with many years of experience.
In addition we offer consultancy on product viability either on an individual product basis or on a company-wide basis.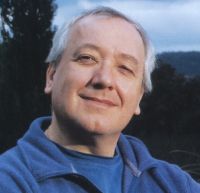 Mike Kemp, Technical Director
Please email me on this address...

(This email address is designed not to be machine readable, please type it into your mail program)
We are happy to offer our expertise in the solution of any design problem, whether in Audio, Video, Multimedia or beyond. As well as using our considerable experience to focus on fast and cost effective solutions we are not afraid to innovate and produce new and exciting solutions.
Our technology experience includes:
Hardware
Design with many stand alone and embedded processors including ADSP SHARC 21065L, ADSP 2116x, 2126x, 2136x family, PowerPC,etc
Massive multi processor systems involving up to 40 cooperating DSP devices
MADI multi-channel digital interfaces
Programmed logic for minimal chip count solutions
Design of numerous professional audio products from conception to production
DSD processing solutions for audio processing with Sony SACD technology
PCM processing systems, both standard and novel
USB interfaces
IEEE 1394 interfaces
ethernet interfaces
Video processing systems, including graphic processing, captioning and animation
Software
User interface and signal processing software systems for the hardware described above
Communications software for interface over USB, PCI and Firewire
Webserver applications for system control using standard browsers, either on local intranet or world-wide on the internet
User interface software for PC
User interface software for Macintosh OSX
Native real time signal processing on standard PC platforms
Product simulation on standard platforms
Internet programming
General
Consulting on product viability for major quoted company main board
Negotiating technology licensing deals
Contact us:
by e-mail (but please note that we reply to ALL genuine email enquiries. Unfortunately, due to increasing volumes of spam we have had to install filters. If you receive no reply the message may have been intercepted, so please contact us by phone):
info@sintefex.com,
by phone +351 282 361748
by fax +351 282 361749
by mail:

Sintefex Audio Lda
S. Marcos da Serra
P-8375 Portugal
---

© 1997 - 2023 Sintefex Audio Lda, all rights reserved
[Server 3] Sintefex Audio Lda is a limited liability company incorporated in Portugal. The Sintefex name and logo, and the expression "Dynamic Convolution" are trademarks of Sintefex Audio Lda. All trademarks and trade names used on this site that are not the property of Sintefex Audio Lda are acknowledged. Whilst every effort is made to ensure the accuracy of information on this site, we accept no liability for inadvertent errors or omissions. All links are provided in good faith and do not represent an endorsement of the web site addressed nor do we have any responsibility for the content of any site not maintained by us. No matter on this web site (except your acceptance of licence conditions where indicated) constitutes any offer or any form of contract unless agreed explicitly in writing with authorised representatives of Sintefex Audio Lda. Sintefex Audio, Lda, Sitio de Vale Formosilho, S.Marcos da Serra, 8375-S. Bartolomeu de Messines. Capital Social: EUR5000 -Mat. C.R.C.Silves sob o no 01376/970908 NIPC no 503951170